Latest 10 Responses

05/24/2020: HOLLY BRANCH RD KATONAH, Cross: CROSS RIVER RD, Type:INVEST, INSIDE, Time out: 01:51:01 Area: KATNH,Alarm lev: 0
05/22/2020: N SALEM RD KATONAH, Cross: MT HOLLY RD, Type:HAZARD, GAS, Time out: 16:22:01 Area: KATNH,Alarm lev: 0
05/22/2020: PARKWAY KATONAH: @KELLOGGS AND LAWRENCE HARDWARE, Cross: BEDFORD RD, Type:ALARM, COMM, Time out: 10::06 Area: KATNH,Alarm lev: 0
05/14/2020: OLD MILL LN KATONAH, Cross: WHITLOCKVILLE RD, Type:ALARM, COMM, Time out: 17:25:38 Area: KATNH,Alarm lev: 0
05/13/2020: KATONAH WOODS RD KATONAH: alias KATONAHS WOODS RD KATONAH, Cross: CANTITOE ST, Type:INVEST, OUTSIDE, Time out: 21:10:22 Area: KATNH,Alarm lev: 0
05/12/2020: GIRDLE RIDGE RD KATONAH, Cross: GIRDLE RIDGE DR, Type:ALARM, RESD, Time out: 10:43:45 Area: KATNH,Alarm lev: 0
05/11/2020: OLD MILL LN KATONAH, Cross: WHITLOCKVILLE RD, Type:ALARM, COMM, Time out: 17:53:35 Area: KATNH,Alarm lev: 0
05/11/2020: CROSS RIVER RD/GOLDENS BRIDGE RD KATONAH: alias RT35/RT22, Cross: CROSS RIVER RD, Type:MVA, INJURIES, Time out: 16:11:14 Area: KATNH,Alarm lev: 0
05/10/2020: KATONAH: @I684 SB 17.3 BRIDGE (JAY ST OVERPASS), Cross: , Type:ALS, default, Time out: 22:13:28 Area: KATNH,Alarm lev: 0
05/10/2020: CROSS RIVER RD KATONAH: alias RT35, Cross: OLD CROSS RIVER RD, Type:HAZARD, WIRES, Time out: 17:25:10 Area: KATNH,Alarm lev: 0
This REALLY Lifts Our Spirits! Thank You!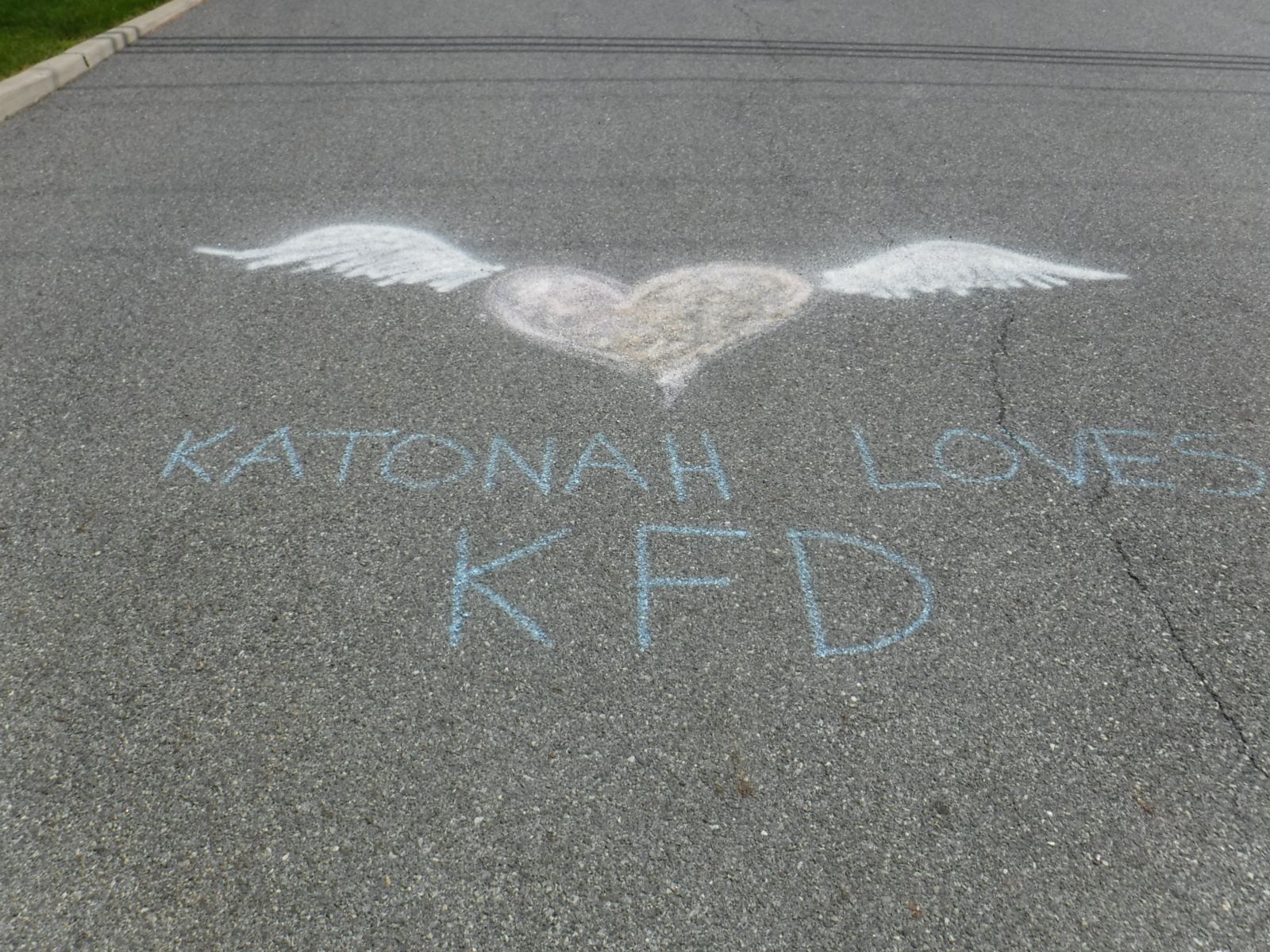 With the potential upcoming lifting of the stay at home orders, we will be ending requests for Birthday Parades. Please understand this decision was not made in haste, nor was it made lightly. As our community looks forward to slowly returning to normal, our daily operations must as well. All parade requests that have been already made will be honored. Our last Birthday Parade will be Saturday, May 30th. We have enjoyed how much this small event has brought our community together and appreciate the support and thanks we have received from all of you. As always, stay well and stay safe
Contact Kate Hallex at khallex@katonahfd.org for scheduling.
Carnival
It is with deep regret that we announce that our 2020 Carnival and Parade have been canceled.
The Katonah Fire Department is always looking for new volunteers...
Memorial Day 2020--Commemorating While Quarantined

Ex Chief Dean W. Pappas, May 22

A procession by the Town of Bedford's Emergency Services Agencies took place Friday, May 22 to kick off a socially-distanced Memorial Day weekend commemoration. Organized by the Katonah American Legion Post 1575, the procession, consisting of representative apparatus from Bedford Police, Katonah Bedford Hills Volunteer Ambulance Corps, Bedford Hills Fire Department, Bedford Village Fire Department, ... (Full Story & Photos)


Two Car MVA Ties Up Route 35/Woodsbridge Road Intersection

Ex Chief Dean W. Pappas, May 09

At about 9 AM on an unusually cold May Saturday morning, Katonah Fire Department was dispatched to a reported motor vehicle accident with one car emitting smoke, and a reported head injury. Car 2211, Car 2212, Rescue 17, Engine 115 and Utility 8 responded. Upon arrival, the northbound lane of Woodsbridge Road was closed at the commuter lot and a safe scene was established as personnel dealt with securing ... (Full Story & Photos)


Kitchen Fire Quickly Extinguished

Ex Chief Dean W. Pappas, May 07

KFD volunteers were dispatched early this morning on a reported kitchen fire on Girdle Ridge Drive. While responding, units received an update that people on the property had put out a small fire with extinguishers. Car 2212, Engine 116, Ladder 39 and Tanker 6 all responded. Upon arrival, crews entered the structure to ensure all fire was out and opened up the walls to check for extension to the surrounding ... (Full Story & Photos)

Food for the Frontline Troops at Northern Westchester Hospital Center!

Ex Chief Dean W. Pappas, May 05

Tuesday evening, Katonah Fire Department supported three local restaurants in town by purchasing 200 meals to donate to the hard-working personnel at Northern Westchester Hospital Center. Car 2211, Utility 8 and Engine 117 delivered the food, and were joined by the staff from La Familia. In addition to La Familia, food came from Goldberg's Bagels and The Whitlock. ... (Full Story & Photos)


One Car MVA at Saw Mill Curve Near Exit 43

Ex Chief Dean W. Pappas, May 01

Katonah Firefighters were called out early Friday morning for a reported motor vehicle accident South on the Saw Mill River Parkway near the Harris Road exit. Car 2212, Rescue 17 and Engine 115 responded to find one car had hit a guardrail and had spun out, blocking the exit lane to Harris Road and the right lane of the Parkway. Fortunately, the occupant self-extricated and did not suffer major injury. ... (Full Story & Photos)

Katonah Fire Department Recruitment Video
Your feedback is important to us! Feel free to sign the Guestbook.