Yearly Run Totals
2022
350
2023
284
2021
338
2020
302
2019
323
2018
368
2017
345
2016
337
2015
311
2014
338
2013
336
2012
360
2011
376
2010
343
2009
313
2008
328
2023 Incidents
January
19
February
22
March
26
April
39
May
30
June
33
July
54
August
34
September
22
October
5
November
December
Total
284
Web Counters
Website Visitors
Since
May 7, 2014

Visitors Today
Oct 03, 2023

National Weather Service Alerts for Westchester County, NY
Latest 10 Responses

10/03/2023: S MOGER AVE MT_KISCO: @MAST BROTHERS CHOCOLATE, Cross: GREEN ST, Type:MA, FIRE, Time out: 23:55:57 Area: MTKSC,Alarm lev: 2
10/02/2023: QUICKS LN KATONAH, Cross: RIDGE RD, Type:STRU, default, Time out: 09:36:38 Area: KATNH,Alarm lev: 0
10/02/2023: QUICKS LN KATONAH, Cross: RIDGE RD, Type:ALARM, RESD, Time out: 09:36:38 Area: KATNH,Alarm lev: 0
10/02/2023: BEDFORD RD KATONAH: @FIRST PRESBYTERIAN CHURCH, Cross: VALLEY RD, Type:INVEST, OUTSIDE, Time out: 08:57:21 Area: KATNH,Alarm lev: 0
10/01/2023: KATONAH: @I684 SB 18.2, Cross: , Type:MVA, INJURIES, Time out: 23:44:52 Area: KATNH,Alarm lev: 0
10/01/2023: CROSS RIVER RD/GOLDENS BRIDGE RD KATONAH, Cross: CROSS RIVER RD, Type:MVA, INJURIES, Time out: 06:13:30 Area: KATNH,Alarm lev: 0
10/01/2023: KATONAH AVE KATONAH: @KATONAH SHOPPING CENTER, Cross: BEDFORD RD, Type:STRU, default, Time out: 05:32:19 Area: KATNH,Alarm lev: 0
10/01/2023: KATONAH AVE KATONAH: @KATONAH SHOPPING CENTER, Cross: BEDFORD RD, Type:ALARM, COMM, Time out: 05:32:19 Area: KATNH,Alarm lev: 0
09/30/2023: JAY ST KATONAH, Cross: BEAVER DAM RD, Type:SERVICE, WATER, Time out: 11:30:04 Area: KATNH,Alarm lev: 0
09/29/2023: LAKESIDE DR KATONAH, Cross: LILY POND LN, Type:HAZARD, WIRES, Time out: 08:58:07 Area: KATNH,Alarm lev: 0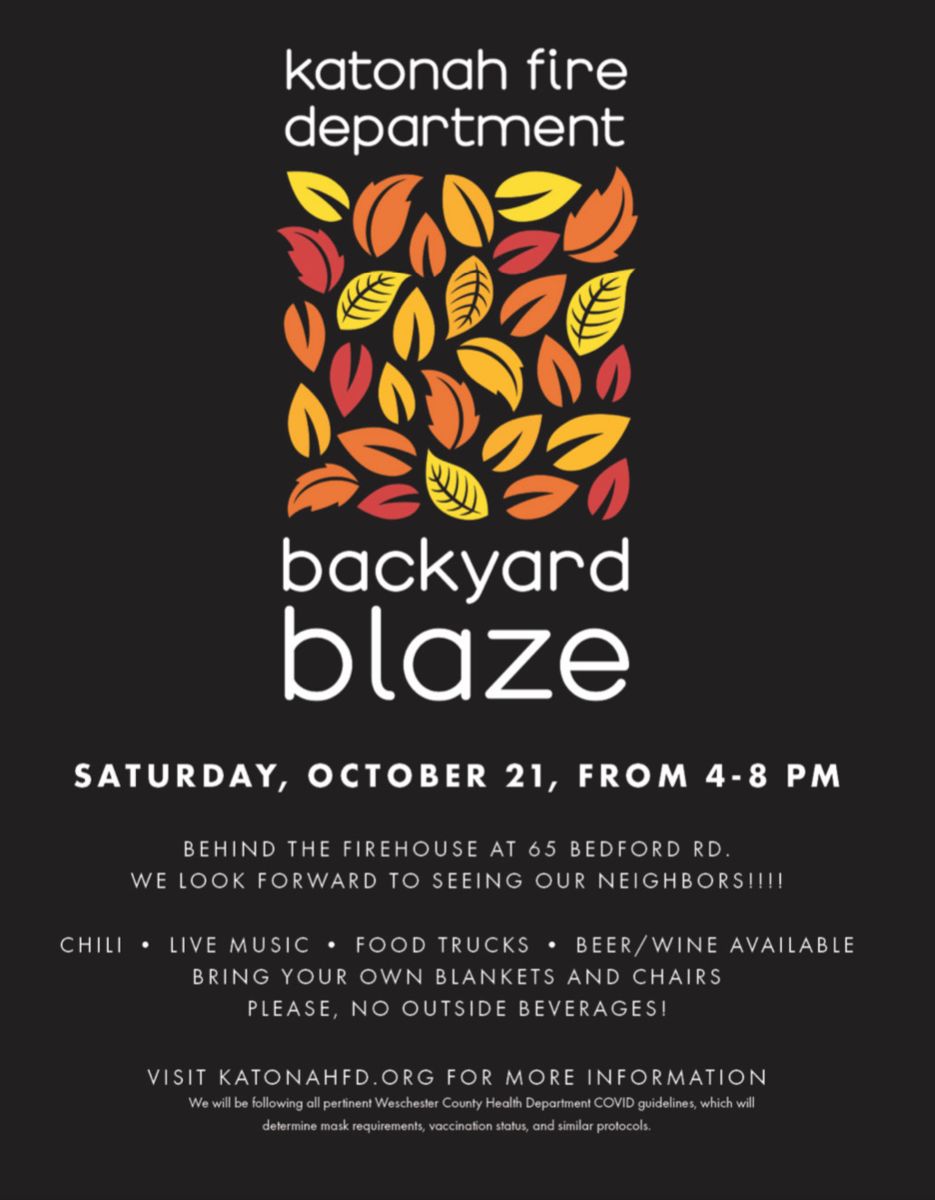 Firehouse chili will be available AT THE BLAZE!
Katonah Fire Department Needs You!


Find more information about joining us at the link below:

You can also check out our KFD PROSPECTIVE MEMBER BROCHURE
Vehicle Extrication Skills Honed

Ex-Chief Dean W. Pappas, September 26

Monday night, KFD volunteers worked on their motor vehicle extrication skills, taking apart a donated car using hand tools, saws and hydraulic cutters and spreaders. Firefighters went over the concepts of stabilizing the vehicle, cutting the battery cables, safely taking out window glass, and then removing doors to access a victim who could be trapped inside. At each step, personnel went over the ... (Full Story & Photos)


KFD Responds to Reading Room on a Rainy Monday

Ex Chief Dean W. Pappas, September 25

At about 11:30 AM Monday, KFD volunteers were dispatched to the Reading Room on Edgemont Road on a reported electrical fire. Cars 2212 and 2213, along with Engine 116 and Ladder 39, responded. Engine 116's crew went inside to locate the source of the fire, while Ladder 39 raised its aerial to the second floor. Crews found a small fire behind a prep table on the second floor, and quickly extinguished ... (Full Story & Photos)


Late Night MVA on Rain Soaked Interstate

Ex-Chief Dean W. Pappas, September 11

Around 11:30 PM Sunday night, 9/10/23, KFD volunteers were dispatched to a two-car accident on I-684 South adjacent to the split to the Saw Mill River Parkway. Cars 2211, 2212, 2213, along with Rescue 17 and Engine 115, responded. Also responding were Katonah-Bedford Hills Volunteer Ambulance Corps and Westchester EMS. The two cars were heavily damaged and had to be towed. One driver was taken to ... (Full Story & Photos)

KFD Apparatus Get a Good Scrubbing from KES Fifth Graders

Ex Chief Dean W. Pappas, September 09

The rigs were looking a bit dusty the other day, so we decided to take some of them over to the annual Katonah Elementary School Fifth Grade Car Wash Saturday morning for a good scrubbing. The kids went right to it, swarming all over Engine 116, Utility 22, and Cars 2212 and 2213. Fortunately, the weather cooperated as well. Thanks KES, for making our fire trucks shine!... (Full Story & Photos)


10-75 Called for Labor Day Townhouse Attic Fire

Ex Chief Dean W. Pappas, September 04

As temperatures rose toward 90 degrees on Labor Day Monday afternoon, Katonah volunteers were dispatched at about 1:40 PM to a townhouse complex on Croton Lake Road for a reported attic fire. Cars 2213 and 2212 were first to respond. Upon arrival, Car 2212 confirmed an attic fire and requested a 10-75, bringing in mutual aid units from Bedford Hills and Mount Kisco FDs. Meanwhile, Car 2211, Engine ... (Full Story & Photos)

Your feedback is important to us! Feel free to sign the Guestbook.